Islands are incredibly lovely sites that God has provided to humanity. In today's world, there are a lot of islands populated by people. The top 10 most picturesque islands in the world will be discussed in this post today. The huge variety of animals, vegetation, and water bodies on these islands are only a few of their many outstanding characteristics. They are undoubtedly a fantastic location for your ideal vacation.The world is a lovely place filled with marvels and secrets. There are numerous nations, each populated by individuals of distinct racial, linguistic, and cultural backgrounds. Every nation has something unique to offer. Either it has a vibrant culture, a multicultural population, lovely weather, or a diverse terrain. Islands are the ideal location for vacations among these. Take leisurely strolls down the shore, a refreshing swim in the ocean, or simply rest on the sand while soaking up the sun.
These Are The Top 10 Most Beautiful Islands In The World 2022
10. Moorea – French Polynesia
Moorea, a stunningly beautiful island in French Polynesia, comes in at number ten. Only 12 miles separate it from Tahiti. Moorea is a fantastic vacation spot for families and couples.Moorea island, which is encircled by the stunning blue Lagoon, is renowned for its flawless mountain peaks, lush terrain, and sandy beaches. This lovely island's uneven and sloping areas make for great climbing terrain. Fortunately, Moorea has a variety of climbing trails to choose from. You are not required to be an authority on it. Simply having fun.
9. Fiji
Perhaps the most distinctive archipelago in the South Pacific Ocean is Fiji. There are 332 islands in it. 33 % of them aren't even occupied. This country is home to beautiful coral reefs, white sand beaches lined with palm trees, and tidal ponds. In 2022, Fiji will rank among the most beautiful islands on earth.This island receives a flood of visitors, which boosts the local economy. The location is perfect for a visit at any time of the year because the weather is consistent throughout the year. Take long walks on the white sand beaches or go scuba diving to discover the coral reefs that surround the island. The island is among the most beautiful in the world because of its stunning natural surroundings.
8. Bali, Indonesia
Bali, one of the most popular tourist destinations in Indonesia, is ranked eighth. Additionally, it is arguably one of the world's most beautiful Islands. Bali is well-known around the world for its past, otherworldliness, and, obviously, its majestic scenes. In 2022, Bali will rank among the most beautiful islands in the world.
Bali's economy is built primarily on the travel and tourist industry. The island has a vibrant culture of the arts, including dance, music, and painting. It features both white and black sand beaches, coral reefs all around it, and a rich agricultural industry. The weather in Bali is consistent throughout the year. As a result, anyone can travel to this island at any time of year. Around 280 different kinds of birds may be found among Bali's abundant plant and animal life, but in recent years, a surge in tourists and the resulting production of plastic trash have made Bali's ecosystem more polluted.
7. Seychelles
he Seychelles are ranked seventh. Seychelles is a group of 115 islands that is located in the Indian Ocean on the east coast of Africa. There is little doubt that the Seychelles' fine white sand beaches and crystal-clear waters rank among the best in the world. There are 2000 different plant varieties, 1000 different fish species, and 12 endemic species of avian life on this ordinarily gifted island.Seychelles is a sovereign state made up of a collection of islands in the Indian Ocean, which is part of Africa. The majority of the islands in this former British colony are still uninhabited and have untapped natural resources. The islands are made up of coral and granite islands.
6. Crete, Greece
One of Greece's largest and most stunning islands, Crete, is ranked sixth on the list. Crete's heaven-like beaches and crystal-clear waters are among the most unusual places to visit. Amazingly, Crete's shoreline stretches for more than 650 kilometres. On this ideal island, you can even find vacant seashores. The beautiful mountains, astonishing valleys, and sheer chasms of Crete are similar.
5. Santorini, Greece
The most distinctive island in Greece, Santorini, is ranked fifth on the list. This magical island is well known for its surreal sunsets, which are unquestionably among the best nightfalls on earth. The best town is Oia because of its distinctively gloomy atmosphere. In 2022, Santorini will be one of the world's most beautiful islands.Santorini's economy is supported by the tourism sector, which receives about 2 million visitors a year. You can have some delectable local wine made here from Santorini-native grapes, a distinctive product that is unavailable anywhere else in the globe. The Santorini is a special island since it seldom ever rains and has volcanic ash on its beaches and soil.
4. Galapagos Islands, Ecuador
The Galapagos Islands are undoubtedly the most popular and wild on the globe, as well as possibly the most beautiful. This unique archipelago, which can be found in the Pacific Ocean 621 miles off the coast of Ecuador, is made up of 18 major islands, three smaller islands, and more than 100 islets. Only a handful of places on earth have a structure like Galapagos'. The majority of the islands are well-kept by humans.The highest level of endemism on Earth is found in Galapagos. Some of the main indigenous species of the Galapagos islands include the Galapagos turtle, marine iguana, Galapagos hide seal, Galapagos penguin, and Galapagos peddle.
3. Palawan, Philippines
Third on the list and unquestionably the most picturesque island in the Philippines in 2022 is Palawan. It is frequently referred to be a typical Philippine miracle. The good news is that Palawan has a lot of unspoiled beaches with crystal-clear water.The island of Palawan is made up of mountain ranges and is known for having a wide variety of flora and fauna. It is also covered in forests. Explore the Coron Reefs and other island natural treasures while taking a dip in Palawan's ocean waters.
2. Bora Bora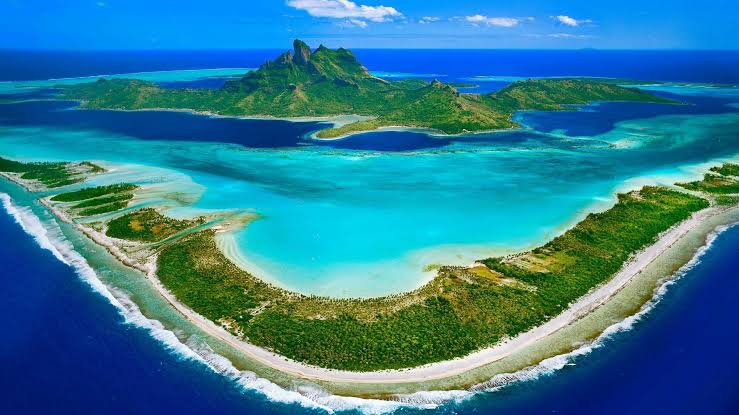 The most praised and gorgeous island in French Polynesia is Bora. It is a well regarded unique nighttime attraction. An excellent tourist destination for both families and lone travelers. When you first visit Bora, whether in a picture or in person, the stunning turquoise tidal pond around the island will catch your attention. It might be the most beautiful tide in the entire world.One of the most stunning islands to visit is Bora Bora, which is ringed by a lagoon and isolated from the central sea by coral reefs. The island's economy is mostly reliant on tourism and revenue generated by the resorts. The island's natural splendor, including its clear waters, stunning beaches, and coastal resorts, attracts travelers. Scuba diving and snorkeling, among other water sports, are available here so that you can experience the marine life of the Bora Bora islands.
1. The Maldives
The Maldives, which are first on the list, will unquestionably be the world's most beautiful island in 2022. This surreal archipelago, which is located in the Indian Ocean, is made up of more than 1000 coral islands. The Maldives' seashores, tidal ponds, coral reefs, and marine life exude an unparalleled joy that is difficult to describe. It is arguably the most incredible place you should ever visit.The Maldives is a collection of islands, all of which are exquisitely gorgeous. The fact that these islands were created from coral rubble adds to their attractiveness. In terms of altitude, it is the world's lowest country. The Maldives have a tropical climate and are home to a variety of marine species, including coral reefs, fish, sea turtles, whales, and dolphins. The Maldives' ecology has suffered recently as a result of climate change, which has caused sea levels to rise and put the country at risk of floods.